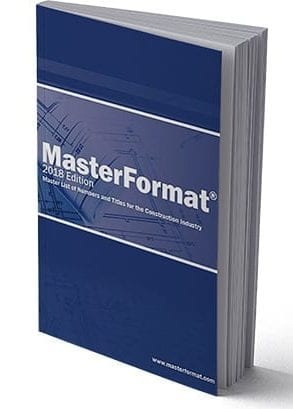 CSI MasterFormat is the standard used to provide synchronicity between manufacturers and builders. The MasterFormat is used by manufacturers to ensure that their products meet requirements such as size, weight, or material types.
This enables construction companies to know what to expect and how to prepare a scene for purchased items.
Here's an easy example of how this works. A builder knows when fitting a toilet when making a bathroom from scratch, the water and drainage pipes need to be distanced properly from the wall and from each other. Because of the MasterFormat, toilet manufacturers have pre-built the toilet to accommodate the plumbing- where and how the builders have prepared.
This coding system works as a middleman, helping one industry make things clear for the other. The end result is faster and more error-free manufacturing, easier engineering, and quicker building times for construction companies.
What is the CSI MasterFormat?
Over the years, people within the building and construction manufacturing industries have dubbed MasterFormat as "the Dewey Decimal System" of building and construction. The CSI MasterFormat is a series of coding systems, broken down and categorized by sections referred to as Divisions. More specifically, 50 Divisions in all to date. Up until 2004, there were only 16 Divisions (more about the divisions below).
Every area of construction and manufacturing for the construction industry is covered under the CSI MasterFormat. This is true for commercial, industrial, and residential buildings.
What the MasterFormat is Not
MasterFormat is not to be confused with localized building codes. Building codes can change from town to town, state to state, country to country. They are what has been agreed upon within a community, rather than a far-reaching standard.
Building codes do not conflict with the MasterFormat because they have little to do with the relationship between the construction company and its vendors. However, they can and do play off of each other depending on the situation.
Unlike localized building codes, MasterFormat is recognized and used throughout the United States and Canada as one set of standards that manufacturers build by and construction companies prepare for.
History of the CSI MasterFormat
In the mid-20th century, sometime after World War II, different material types and new products began hitting markets. Construction specifications began to develop, attempting to usher standards into the growing list of building materials.
In 1948, the Construction Specifications Institute was founded after the war, which offered a numbering system that introduced or improved standardization through building materials' numeric organization.
In 1963, CSI published a format for construction companies and manufacturers to use, which enabled them to place orders or fabricate along with this numeric system of standards. At the time, this format consisted of 16 total divisions. It wasn't being called the MasterFormat till around 1975.
Due to the rapid expansion of technology, building materials, and furnishings installed into various buildings, CSI expanded their 16 Division format to a 50 Division format back in November of 2004. Some of these divisions work as placeholders- blank in wait for the expansion.
CSI MasterFormat Divisions
As aforementioned, several Divisions are not yet populated with any information. They have been reserved for further expansion as different categories may arise. This is CSI's solution for preparing for the next wave of technological and material leaps.
Each Division contains a host of subgroups that fall under the Division's subject. For the sake of expedience, we'll just stick to the overall coverage by only displaying top-level Division titles.
General Requirements Subgroup
Division 01 — General Requirements
Facility Construction Subgroup
Division 02 — Existing Conditions
Division 03 — Concrete
Division 04 — Masonry
Division 05 — Metals
Division 06 — Wood, Plastics, and Composites
Division 07 — Thermal and Moisture Protection
Division 08 — Openings
Division 09 — Finishes
Division 10 — Specialties
Division 11 — Equipment
Division 12 — Furnishings
Division 13 — Special Construction
Division 14 — Conveying Equipment
Facility Services Subgroup:
Division 20 — Mechanical Support
Division 21 — Fire Suppression
Division 22 — Plumbing
Division 23 — Heating Ventilating and Air Conditioning
Division 25 — Integrated Automation
Division 26 — Electrical
Division 27 — Communications
Division 28 — Electronic Safety and Security
Site and Infrastructure Subgroup:
Division 31 — Earthwork
Division 32 — Exterior Improvements
Division 33 — Utilities
Division 34 — Transportation
Division 35 — Waterways and Marine Construction
Process Equipment Subgroup:
Division 40 — Process Interconnections
Division 41 — Material Processing and Handling Equipment
Division 42 — Process Heating, Cooling, and Drying Equipment
Division 43 — Process Gas and Liquid Handling, Purification and Storage Equipment
Division 44 — Pollution Control Equipment
Division 45 — Industry-Specific Manufacturing Equipment
Division 46 — Water and Wastewater Equipment
Division 48 — Electrical Power Generation
What is the Difference Between MasterFormat & UniFormat?
Between these two systems of standards, the largest difference is intent.
UniFormat is a system-based means to organize building content, and MasterFormat is a materials-based system. Though different in their approach, they are often used in conjunction with one another.
When decisions need to be made on a "system" level, those involved will turn to UniFormat. But as information trickles down into particulars such as "materials," MasterFormat steps in. One system works its way toward the other.
It is often understood that larger and simpler construction projects are done more easily through UniFormat, as smaller, more complex constructs require MasterFormat.
UniFormat is currently growing in popularity in the world of construction modeling due to its easier method of categorically planning structures and assemblies.
Uniformat is a publication of CSI and CSC, as is MasterFormat, so the idea of these two publications working in tandem across projects shouldn't come as a surprise.