"Luxer One" is one of the industry-leading companies specializing in the secure pickup and delivery of goods. These lockers are used in a wide range of industries including commercial, residential, office, retail, and university.
Research shows that the online shopping industry reached a record high of $500 billion in 2019. More than 85% of people in the U.S shop online most of the time. Today, property managers are well-aware of the hectic and painstaking task of delivering packages.
With over 30% increase in online shopping since 2015, in the U.S, a 200-unit building receives over 50 packages on a daily basis. This has caused problems for property managers. Most recently, the company "Luxer One" came up with a sophisticated solution – i.e. the Luxer One lockers, which are the best and the most affordable alternative to package lockers.
Parcel Lockers & Parcel Rooms by Luxer One
Luxer Room – The Luxer Room is a locked closet in which the company installs a control pad. Package carriers enter the room using a unique code and then drop off all the packages. Then, they send emails or SMS to the residents notifying and allowing them to access the locker and receive the package.
Luxer Lockers – Luxer Lockers are a smart-locker system, which is operated on automated algorithms or software. The product is designed specifically for retail stores, multi-family residences, and other large commercial stores, which do not have a lobby or front desk.
With this package locker system, the carrier is able to deliver packages in a safe and secure manner. Property managers can use the locker and accept packages for their clients or residents. Previously, most carriers would leave the packages unprotected in case the tenants would not present at the time of packages' delivery.
When it comes to the "Luxer One" lockers, thanks to the advanced, cutting-edge technology, scheduled pickups and theft are something that you shouldn't worry about – as these are now the things of the past.
What Material are Luxer One Lockers Made Out of?
According to the Company "Luxer One," Cold-rolled steel or CRS is used in the manufacturing of Luxer lockers. This material is proven to be much stronger compared to hot-rolled steel.
The company varies the material's gauge to manufacture lockers, which are strong, tough, efficient, and full of integrity. When we talk about CRS, there is a large body of evidence in the scientific community illustrating that cold-rolled steel is a high-grade material with a much nicer finish.
More interestingly, the company has coated a corrosion-resistant layer on the locker's body, which keeps the surface of the locker free from scuffing – giving the structure its polished and glossy appearance.
According to "Luxer One," the lockers are made from zinc-plated steel, which is an extremely tough material that could not be breached easily. Thus, this makes the locker theft-proof or tamper-proof. So much so, the lockers are sturdy enough to last for more than 10 years.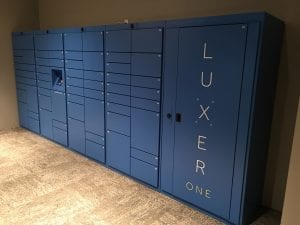 Luxer One Features
Luxer Lockers are the best lockers for a wide range of reasons – they come with incredible features. First, they are made of 100% pure American steel. You can install these lockers indoors or outdoors. The best thing about these lockers is that Apple – the most reputed technology company powers them.
When it comes to the features of this product, it has a seven-gauge metal construction, a power supply, a barcode reader, and a built-in security camera. This means you can access the locker at any time.
In addition, all locker designs are easily configurable and scalable. You can likewise ask the company to customize the installation in your space. The touchscreen dashboard for this product is highly intuitive, which can produce accurate data reports on the history of package deliveries.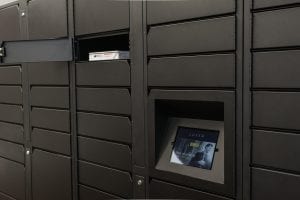 Are Luxer One Lockers Safe?
Generally, any kind of package locker provides security and privacy. However, when we talk about Luxer Lockers, they are one of a kind.
For instance, after a carrier makes the delivery, the Luxer system will send you a unique access code through email or SMS. It is important to know that you can use this code only one time.
You can pick up the package any time you want by entering the access code. Your package is safe, private, and secure in Luxer Locker.
The video surveillance CCTV system in the locker area records and saves video data every time a resident accesses the locker. The detailed data and video security allow the company to keep a record of people who have accessed the lockers.
How Much do Luxer One Lockers Cost?
Luxer Lockers come with an upfront cost along with a monthly fee for additional support including technology and video surveillance. So, it can cost something between $6,000 to $20,000 for both the equipment and installation. Keep in mind that the cost also depends on the type of configuration you choose.
Looking for a Professional Locker Install Company? We're Here to Help.
Conclusion
There are many smart lockers available on the market. For instance, USPS and Amazon use electronic smart lockers for many years to deliver safe & secure package. Compared to other package delivery systems, Luxer Lockers are capable of accepting the delivery of packages from all carriers.
In addition, these lockers use the package delivery system and security CCT cameras. The system accepts signatures for all packages requiring the recipient's signature. If you are not registered with the company, you will receive the package via the 'house account' of the property manager.
They offer a seven-day return policy as well as hardware, software, and customer support. Technology plays an important role in making Luxer Locker the best security lockers for multifamily amenities.
Luxer One lockers are amazingly fast and easy to set up. If you are an expert in carrying out DIY projects effectively, you can install the lockers yourself. However, we recommend you hire a professional contractor to get the job done accurately.
Since the lockers do not involve a lot of hardware, it is worth your investment – as compared to other locker systems – making it a popular security system for both residential and commercial buildings.