Toilet partitions are enclosures the function of which is to surround toilets in public bathrooms. Toilet partitions are mostly used to provide for people who use bathroom stalls.
It is important to know that toilet partitions come in a wide variety of types and configurations. They are likewise made of different materials such as powder-coated steel
A toilet partition is necessary for completing a finished public bathroom. Considering the specific type of configuration, the installers fasten the components to the floor, ceiling, or walls of the bathroom. The stall, at least, contains two walls and one door.
In today's article, we will tell you about the toilet partition mounting options. It is important for you to read this article thoroughly so that you understand the purpose of each mounting option discussed. Read on!
Looking for Toilet Partition Installers? Contact us today!
1: Headrail Braced Toilet Partitions
Headrail braced mounting option is the most widely used style for bathroom partitions. First, the installer mounts the pilasters to the floor and then install the Headrail, which is attached to the pilasters and the walls.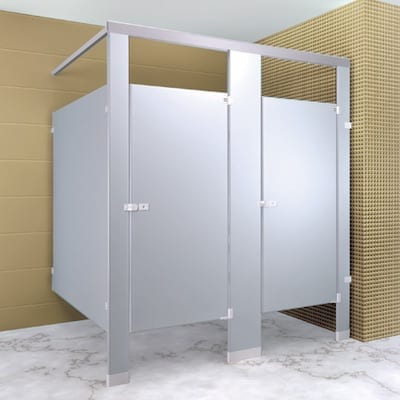 Headrail braced design is typically attached to the floor and stabilized with the Headrail at the top of the pilaster. The material of the Headrail is normally anodized aluminum, which has an "anti-grip" feature. This makes it uncomfortable to pull down or hang.
Usually, the pilasters are 80 inches high – extending 12 inches above the doors. The thickness of the Headrail is 1-2 inches. They also come with end plugs used for wall connection. You can use Headrail braced partitions with wood or concrete floors. Just make sure your floors are lightweight.
Headrail braced partitions offer strong support as compared to the floor-mounted style. Expert recommend this style for heavy traffic areas such as office buildings, restaurants, and schools.
These configurations are also useful for commercial projects – as well as they are cost-effective and the installation is easy. For instance, professional carpenters and contractors can install these partitions in a hassle-free manner. Headrail braced partitions do not require special flooring or ceiling constructions. Experts recommend these partitions in areas with high ceilings.
As far as the disadvantages are concerned, these partition mounting styles are not recommended in areas where pilasters can't be mounted to solid floors. Another disadvantage of this type of mounting style is not allowing for complete floor access. Thus, it is quite difficult for the cleaning personnel to clean the floors effectively.
2: Floor-to-Ceiling Toilet Partitions
Floor-to-Ceiling mounting style is useful for low-medium height ceiling rooms. In such rooms, there is a need for extra stability – so this type of style is very strong and stable – the primary reason is the double mountings. Continue reading!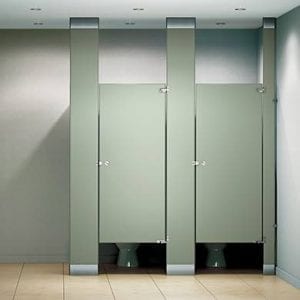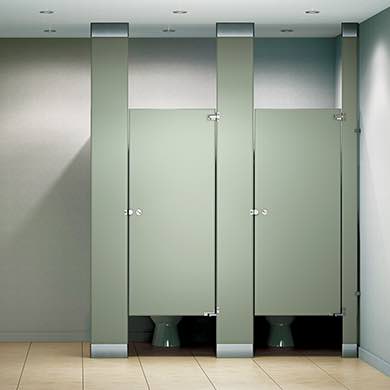 Floor to Ceiling is a great solution for vandalism-prone and busy restrooms. The design requires ceiling reinforcement of blocking for the pilasters, which leads to secure attachment. Experts recommend a height of 96 inches from floor to ceiling.
When we talk about the construction feature of floor to ceiling partitions, pilasters are anchored to structural ceiling and concrete floors, which provides maximum stability and strength. The installers mount the plinths at the top end and bottom end of the pilaster, which provides more aesthetic appeal.
Floor to Ceiling mounting is a durable option for areas of high foot traffic and vandalism. Not only does it provide an additional feeling of added aesthetic appeal but it also provides good privacy and durability. You must install the support in the ceiling to a strong steel structure before you start the installation process of the toilet partition.
This type of partition style is not easy to adjust after installation. So, experts don't recommend floor to ceiling style for installations where you can't mount the pilasters to the solid floors.
3: Floor Mounted Toilet Partitions
Floor Mounted partition configuration or style is a good option for restrooms that have concrete floors. This style offers a good flush appearance at the top with doors, pilasters, and panels at the same height. The design and construction of floor-mounted partitions make them easy-to-install.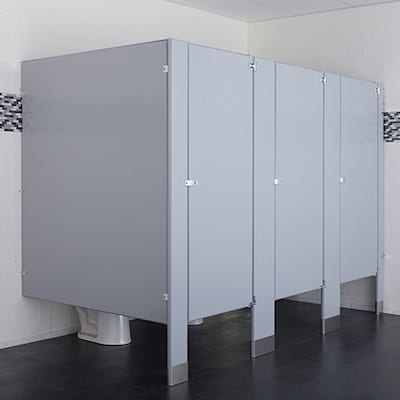 Talking about the features of this toilet partition mounting style, it offers 70 inches pilasters with a good flush appearance that is right across the top of the pilasters and the door. This style requires 3/8 to 5/8 inches floor bolts the purpose is to provide more stability.
Floor mounted partitions are good for low-ceiling bathrooms as well as they have a simple design, which makes them aesthetically pleasing. Make sure you install it on concrete floors with only 2 inches of penetration into the floor. Floor mounted partitions are not suitable for bathroom stalls, which are smaller than 30 inches in width because you would require larger pilasters at the end of panels. Similarly, this type of toilet partition is not recommended for areas with high vandalism and traffic.
4: Ceiling Hung Toilet Partitions
Last on our list of toilet partitions is the "Ceiling Hung" option or style. This type of style offers unobstructed space beneath the bathroom stall. It is likewise aesthetically pleasing and attractive. Ceiling hung partitions have an open design, which provides easy access as well as decreased operating costs and better maintenance.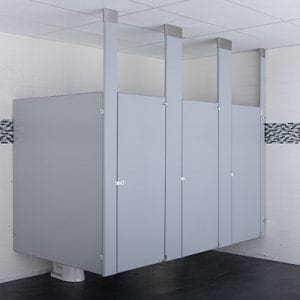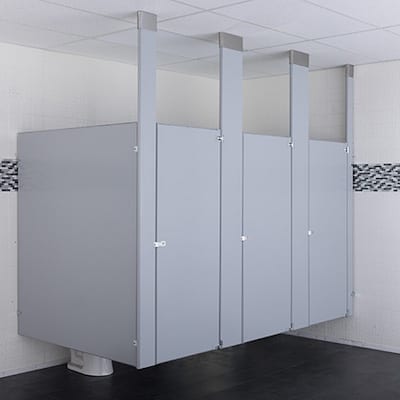 You can add a floor to ceiling plasters for maximum durability and strength. Another important feature of Ceiling hung partitions is that it provides access to the floor as it goes in line with wall-hung fixtures. If you want stable structural ceiling support, you need to hire a professional contractor to get the job done.
Ceiling hung partitions have vertically suspended doors and pilasters from the ceiling. It requires 3/8 or 5/8 inches bolts as well as you can mount the plinths at the pilaster's top-end that gives extra stability and aesthetic appeal.
When you go for this option, you can save a lot of money and time because this type of partition provides you with full floor access so that you can easily maintain the floors by cleaning them in an efficient way. Lastly, these partitions are suitable for bathroom stalls that have less than 31 inches in width. They are not recommended for high-traffic and vandalism-prone areas.