Privada Toilet Partition Review
Privada is one of the leading manufacturers of bathroom and toilet solutions. The company aims to create purpose-made toilet partitions to suit your property. Privada is famous for manufacturing a full line of toilet partitions.
Not only do they offer high-quality toilet partitions – but they stand behind their products with many years of experience. This allows them to manufacture the finest quality toilet partitions.
The Company has highly qualified professionals who work closely with the partition design to address the needs of consumers sophisticatedly. Privada recommends the right design and style for your toilet and helps choose the materials, which will withstand rush, fire, and moisture.
Privada Brings Experienced Craftsmanship
Privada is based in New York and California. It is a family-owned business. The Company has over one hundred years of experience in creating high-quality bathroom design products.
The company has highly qualified designers and engineers who work collaboratively to manufacture the world's best toilet partitions. It is important to know that all mechanical parts used in the partitions are third-party tested. Privada offers ten years warranty on all of its toilet partition products.
The engineers and craftsmen of the company make substantial efforts to create tailor-made partitions with a wide range of styles suitable for all types of properties. Hardware, height option, customizable finish offered by Privada fit any design.
Designers and architects feel confident about the company as Privada exceeds the expectations of their customers as well as provide exceptional value throughout the partitions' lifetime.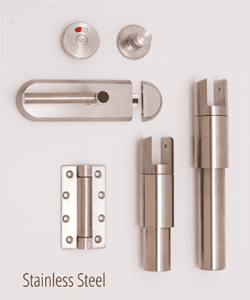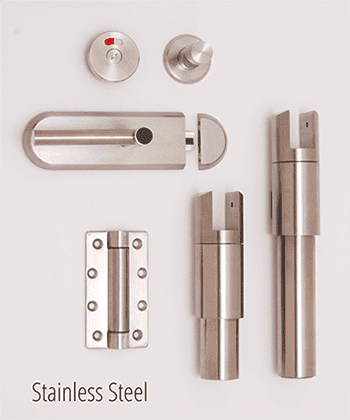 Privada Partition Specs, Colors & Materials
Privada offers a wide range of toilet partitions in terms of design, aesthetics, color, and style. All products are highly resistant to rust, fire, and moisture. Elegant and minimal hardware make a great design statement – providing a tactile and solid feeling of quality and excellence.
Privada offers superior quality partitions, which come at extremely affordable prices. Manufactured in a wide variety of colors with high-quality material, Privada not only provides a guarantee for its products, but the quality craftsmanship, engineering, and durability.
All partitions designed specifically for commercial purposes offer easy installation and reparability for scratches as well as defacements received in medium-to-high traffic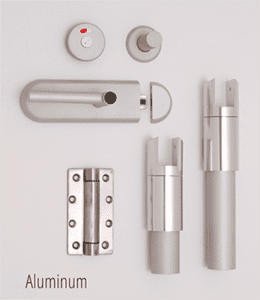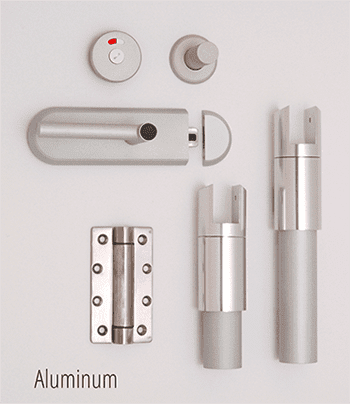 environments – for instance, restaurants, churches, and small-medium enterprises "SMEs." All partition products are environmentally friendly and resistant to rust and fire.
Privada Toilet Partition Products
As mentioned above, Privada offers a wide range of toilet partition products. However, some of the best products of the company are:
Powder Coated Toilet Partitions
The powder-coated toilet partitions by Privada offer the best industrial value. They are made of the finest quality galvanized steel, which makes it impervious to rust. The partitions are then powder coated by the engineers using advanced techniques and processes in the industry.
This product is cleaned thoroughly and go through an electrical and phosphatizing charging process in which the
powdered paint to cling uniformly to the surface of the partition.
The engineers then send the bathroom stall pieces through the oven – allowing them to harden permanently to leave a gleaming finish. This is resistant to high impacts as well as cleaning chemicals.
Solid Plastic Toilet Partitions
These types of partitions are perfect for building with high-volume traffic such as schools and shopping malls. The products are made with durable and damage-proof materials in order to suit different environments.
Solid Plastic Toilet Partitions are highly resistant to impact and scratching as well as sustain cold, hot, wet, and dry environments without any risks of becoming rusty and odorous.
Moreover, Solid Plastic Toilet Partitions by Privada have a much longer life span as compared to the company's counterparts. They come in different colors and styles to match your bathroom scheme.
Stainless Steel Toilet Partitions
Stainless steel toilet partitions offer the highest quality appearance, which is crafted with the most durable and impact-resistant materials in the industry.
They cater well to buildings with high-end traffic as well as public restrooms. These types of toilet partitions made by Privada are highly resistant to the damages caused by chemical cleaners.
Stainless steel toilet partitions also promote sanitary toilet or bathroom environments for low-volume and high-volume traffic in commercial buildings. Furthermore, the stainless steel material is retardant to smoke and flame.
Durable and Workable Material
Privada ensures the doors, pilasters, and panels do not chip, warp, delaminate or flake. At the same time, the company makes substantial efforts to incorporate industry standards and follow protocols, which allow them to make products that are capable of repairing minor damages and defacements. The metal partitions of the company can hold fasteners better than any other kind of substrates.
High-Quality Concealed Hardware
All hardware components are zinc-die cast as well as triple plated with nickel, chrome, and copper to a gleaming finish. Latches and hinges are set with high-precision within the door's thickness in order to provide sanitary, modern styling, and easy maintenance.
Conclusion
If you are looking for high-quality, durable, and resistant toilet partitions, you can go for any of the product that is manufactured by Privada. The family-owned business with over 100 years of experience in bathroom design and manufacturing of partition products – make it one of the best companies in the world.
Privada Resources